"I Am the Hope of the Universe!"

STOP RIGHT THERE!
This article,Fawken, is the sole property of The Z-Meister, and cannot be mentioned, used or even edited, without my permission.
Fawken (ファウケン, Fauken) is an Adventurer and one of the many players trapped within the MMORPG known as Elder Tale. A student living in Japan, he first joined the game and created his Human Swashbuckler-Mystic Rogue when he was introduced to it around the same time as a close friend of his, the Race of Ritual Sorcerer-Animal Trainer named Harisu, whom he even knew in real life. Playing it constantly and making it his personal mission in order to master the rare Juggler build, he therefore downloaded the twelfth expansion and found himself pulled into the land of Yamato, with it having become an actual place and his player character having become his real body.
Following this, he quickly contacted and was contacted by his old friend, with the two agreeing to work together for the time being until sense could be made of the situation. Shortly thereafter, they were asked by the guild --- to help them locate a rumored new location that was said to contain within it a shrine, so that it could be used as a refuge from the chaos that was rapidly overtaking their regular Adventurer City, Susukino. Taking the job, they set out and traversed a great deal of the Ezzo Empire, working together with the Samurai Reimei and the armored Cleric known as LifeKnight along the way, as well as a variety of other players and even several People of the Land on occasion. Following the successful discovery of the shrine, he was one of those who agreed to continue working together as a party for the time being, in order to explore and investigate the new world that they had found themselves within.
He is one of the main characters of Winged Souls.
Appearance
Edit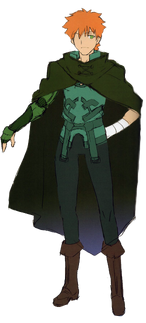 Personality
Edit
Prior to the Catastrophe
Edit
Equipment
Edit
Racial Skills
Edit
Standard Skills
Edit
Relationships
Edit